Andy Garcia On His Family Full of Actors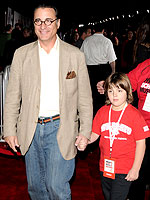 Curtis Leigh/Splash News Online
When director Andy Davis set out in search for a child actor to portray Andy Garcia's daughter in Steal Big Steal Little, his search took him no further than the star's then 12-year-old daughter Dominik. "[Andy Davis] said, 'What about your daughter to play your daughter? We need a 12-year-old and she's 12 years old and she's your daughter,'" the veteran actor explains in a new interview with Media Blvd. While the opportunity seemed ideal, Andy Garcia, who was open to the idea, wanted no part in the deal and left the arrangement between the director and Dominik. Telling the director, "'You talk to her about it and, if she wants to do it, that's between you and her. I'll embrace it, but it's got to be your thing with her,'" Andy was determined to have a professional relationship with his daughter on set.
"I told him, 'I want you to tell her what her responsibilities would be. Leave me out of it. I support it, but it's between you and her.' So he did."
Calling his daughter "a great actress," Andy shares that the acting bug has certainly bit his family. In addition to Dominik's role in Steal Big Steal Little, the young actress, now 25, also joined her director dad in his film The Lost City, playing his sister-in-law with her younger brother, 7-year-old Andres, taking on the role of her son! Not to be left out, Andy's daughter Daniella, 21, had a scene of her own alongside actor Bill Murray "at the end of the film," according to the proud papa. "I have a bunch of stray bullets, like myself, in the family," jokes Andy. Clearly delighted that his children are able to join him in the acting industry, Andy makes sure his kids all remember that practice makes perfect.
"My little boy and I were watching the highlights of the Tiger Woods U.S. Open last year and I said, 'You know why Tiger is such a good golfer?' and he said, 'I know papi, practice.' I always tell him, 'You've got to practice to be good at anything. If you don't practice, you're not going to be good.' He said, 'Papi, don't worry about those things. When I grow up, I'm going to be an actor.'"
In addition to Dominik, Daniella, and Andres, Andy and his wife Maria Victoria Lorido are also parents to Alessandra, 17.
Source: Media Blvd