Kym Marsh Loses Son After Premature Delivery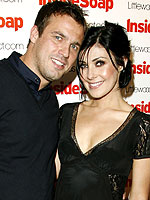 Eamonn McCormack/WireImage
Coronation Street and Hollyoaks stars Kym Marsh and Jamie Lomas are in a state of mourning today, after the premature delivery of their son at 22-weeks gestation. Archie Jay Lomas died minutes after birth, according to reports. In a statement, the couple said,
"Archie is our beautiful angel and we will miss him so much."
Kym, 32, is mom to David, 13, and Emily, 10, with ex-partner Dave Cunliffe. Jamie is dad to Billy, 2, with ex-partner Hayley Lever.
Archie — who had been due in June — was born on Wednesday, the same day Kym's co-star Alison King delivered daughter Daisy Mae.
Source: BBC
Thanks to all the CBB readers who emailed us the news.