Gwyneth Paltrow Emerges From 'Mommy Mode'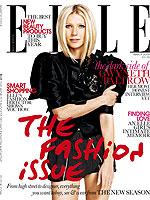 Courtesy ELLE UK
Proclaiming that she's probably "less square than people think," Gwyneth Paltrow tells the March issue of ELLE UK it was with much regret that she kicked the smoking habit more than five years ago. "The last cigarette I smoked was the day I found out I was pregnant with [daughter] Apple [Blythe Alison, 4 ½]," the 36-year-old actress reveals. "I had to sit down and smoke one final cigarette." When her willpower begins to slip Gwyneth need look no further than her own family for motivation to stay the course.
"I'm so pissed off it gives you cancer. But then, once you have children, if you've witnessed a death like I did with my father [director Bruce Paltrow, who died of throat cancer complications in 2002], you just can't. I'd never want to put them through what I went through. So I don't do it."
Gwyneth graces the cover of the fashion issue, and acknowledges that some of her red carpet looks have been bigger hits than others. Regardless, her commitment to fashion has never wavered — even after a few years spent in "mommy mode." Adds Gwyneth,
"I love fashion, but when you're breastfeeding and you're a stone-and-a-half overweight, it's demoralizing to try to wear good clothes."
In addition to Apple, Gwyenth and her husband, Coldplay frontman Chris Martin, are parents to 2 ½-year-old son Moses.
Source: ELLE UK