Angie Harmon: My Life is Complete With My Charlie's Angels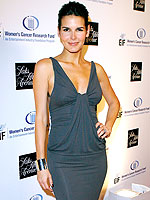 Jeff Vespa/WireImage
There will be no more pregnancy announcements from Angie Harmon and Jason Sehorn, according to the actress.
Initially planning to add one more baby to their family, bringing their total to four children, Angie shares that following the birth of her third daughter Emery Hope in December, she had a change of heart. "My new baby girl completes us. She really does," says Angie. In fact, the proud mama is already looking forward to watching the bond her three daughters will share, comparing them to a well-known action trio!
"I've got three girls now and I've got lots of visions of them posing as Charlie's Angels."
The sisterly love is welcome news for the actress, who prior to the birth of her now 8-week-old baby girl had kept busy poring over sibling rivalry books. "I was ready for it," she explains. However, Emery joined the family without a hitch, says Angie, leaving the actress more than a little surprised. "I read all the research about it and I was totally prepared for everything, and they totally pulled the rug out from under me," the 36-year-old shares, adding, "they love her."
In addition to Emery, Angie and Jason are also parents to Finley Faith, 5, and Avery Grace, 3 ½. Next up for Angie? A guest spot on Samantha Who?.
Source: E!