Salma Hayek Nurses Another Woman's Baby on Nightline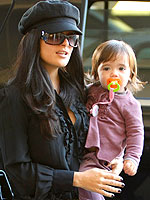 Flynet
Many of you responded positively to last week's story about Salma Hayek nursing a hungry baby during her UNICEF trip to Sierra Leone, after finding that his mother could not produce milk. Having her experience filmed for ABC's Nightline, Salma explained that — because of malnutrition — doctors in the country encourage mothers to breastfeed for two years, but this rarely occurs. The reason? Men urge their wives to cease nursing rather quickly because of a cultural taboo against sexual intercourse with breastfeeding women.
"It is the best thing you can do for your child, not only the bonding, that's how you build the immune system, so in a country like [Sierra Leone] imagine how important it is for the mothers to do that," Salma says. "But here, there is the belief that if you are breastfeeding you cannot have a sexual life so the husbands, of course, of these women are really encouraging them to stop and this is just a taboo."
Her decision to assist one of these women by nursing her hungry baby boy hit home for Salma, 42, as she wondered if it was fair to daughter Valentina Paloma, 16 months. She shares,
"That was amazing. I'm in Africa, in Sierra Leone, and I was able to feed an ill baby that was very hungry. I thought about it — am I being disloyal to my child by giving her milk away? And I actually think that my baby would be very proud to be able to share her milk. When she grows up I'm going to make sure that she continues to be a generous, caring person, and I think that's the best thing I can give her as a mother."
What Salma did is called "cross-nursing." Bettina Forbes, CLC, of the Best for Babes Foundation says, "cross-nursing has been critical to the survival of the human species and is more common today than people might think." Andi Silverman, author of Mama Knows Breast: A Beginner's Guide to Breastfeeding adds,"some moms do it, but there's no way to know how many. And La Leche League actually discourages cross-nursing and wet nursing because the person feeding your baby could have a communicable disease."
Source: Nightline
Click below to see the video of Salma nursing the hungry infant and to take our poll!