Natascha McElhone Says New Baby Makes Life Manageable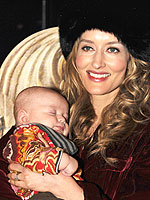 Goff/INF
Natascha McElhone never envisioned herself as a single mom of three, but the 37-year-old actress has proved she's up to the challenge. "Everyone's been saying, 'I don't know how you can manage on your own, with the baby,' but it's because of that in a funny way, it's been manageable," she explains. "You can't hole up and not get out of bed."
Had she opted for the latter, it would have been understandable. Natascha's husband Martin Kelly died last May while she was three months pregnant with their third child, 3 ½-month-old Rex; While at first the thought of having another baby "was a devastating idea," Natascha says Rex has been "a source of constant joy" for both her and her two older sons Theodore, 8 and Otis, 5 ½. "He's so, I dunno. Just a funny little … Yeah, you are," she coos into Rex's stroller. "I think he just knows he has to switch it on because in our house there's so much competition for my attention."
"He has to be supersonically radiating to get noticed, don't you? He has no idea that he has no dad. I guess when he goes to school he will. But I'll cross that bridge when it happens."
Theodore and Otis "talk about Martin all the time," Natascha says, "and he's very much still a figure in our lives, obviously." Theo in particular likes to make jokes about his late father, howling with laughter as he asks Natascha, "'Do you remember when he …?" "But then afterwards, occasionally, he might go, 'Oh. I really miss him,'" she shares.
Read more to find out about the boys' TV time and Rex's big debut!
Natascha only recently hired a nanny, and the children still prefer mom's company over anyone else.
"My kids always say to me, 'Can we watch TV?' I say, 'Absolutely!' because then I can get something done. But then they say, and I wait for it, 'But can you watch with us?' My moment of freedom vanishes. So not only do I not think TV's that great and I hate sitting in front of it, but I have to with them."
Natascha notes that there are advantages to two zoned out children in front of the television, however! "You can squidge them [she demonstrates by squeezing her baby's chubby leg] and they don't complain because they're so absorbed in what they're watching you can knead their legs," she explains. "When they get older they get a bit more wriggly."
Rex made his big debut alongside his brothers at the premiere of Natascha's new film The Secret of Moonacre, and he handled the festivities with ease. "I tell you what was so funny, it sounds ridiculous, but he actually watched the film," Natascha shares. "I thought, I'll see if he chills and likes the fast-moving pictures, and for the last 15 minutes I took him out because he got a bit grumpy, but it was very stress-free." Her can-do approach to life as a single mom is rooted in practicality.
"I'm really OK, through necessity I think. Do you know, I'm just terribly grateful for everything I have."
Source: Times Online