Nancy O'Dell's Ashby is Pretty in Pink!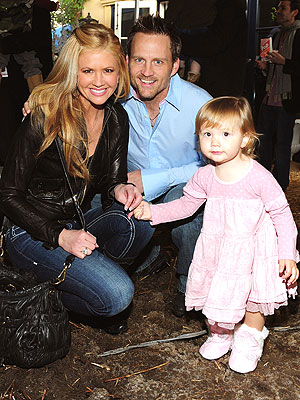 Albert Michael/Startraks
Here's a celebrity baby we haven't seen in awhile! Ashby Grace Zubchevich, 20 months, poses with parents Nancy O'Dell and Keith Zubchevich at Tori Spelling's "Winter Wonderland" party, held Saturday in California.
The Access Hollywood host, 42, is also stepmom to Keith's sons Tyler, 13, and Carson, 9.  She recently joked that being athletic provided her with an in to get to know the boys!
"I love sports, so I play basketball and I throw the football with my stepsons. That was the way I won them over a little bit. I dated a football player in college and he taught me to throw a spiral. So I was cool, I was okay; I was in once they realized I could throw a spiral."
Next up for Nancy? Putting on her dancing shoes for the eighth season of Dancing With the Stars, which begins next month on ABC.
Ashby wears Robeez's Fashion Booties in Heart/Pastel Pink ($24).