Isla Fisher Enjoys Being a Full-Time Mom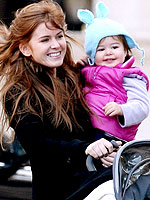 Jae Donnelly/INF
Although she's out and about promoting her new film Confessions of a Shopaholic, Isla Fisher says it's her role as mom to 15 ½-month-old Olive that continues to take up the majority of her time. "I haven't worked for nine months except doing voice-overs for an animated film with Johnny Depp," the 33-year-old actress explains to PARADE. "I'm still getting to be a full-time mother." That means it is Isla who has the pleasure — or pain, depending on your perspective! — of escorting Olive to her doctor's appointments. On the day of the interview, Isla had just returned from one such visit and revealed that her daughter behaved admirably given the circumstances.
"Olive was getting a shot. She didn't cry, only gave out a sort of squeal. But I'd brought along a squeaky toy as a reward for being brave, and that made her very happy."
Olive is Isla's daughter with fiancé Sacha Baron Cohen; Confessions of a Shopaholic is in theaters Friday.
Source: PARADE