Clive Owen Says He's 'Pathetic' at Home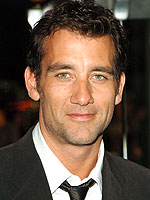 Jon Furniss/WireImage
For international film star Clive Owen, the star treatment ends at the front door of the home he shares with wife Sarah-Jane Fenton and daughters Hannah, 12, and Eve, 9. "I am so low-status in my house you can't believe it," he said during a Tuesday appearance on Late Night with Conan O'Brien. "At home I'm pathetic."  Not that he's complaining! In a separate interview with PARADE, Clive credited his family for his humility, calling them the "most centering" thing in his life. "I go off and make movies, but there's nothing better than going home and hanging with my girls," he explained. "They completely boss me."
Sometimes, it seems, even from a distance; Clive recently purchased the girls cell phones so that they could text their dad when he was away on location. At the Berlin Film Festival earlier this month, the curtain was about to go up on his new film The International when Clive's own phone began to buzz.
"It's the day of the opening, and I was literally about to jump into the car. I texted my daughter back and said I've got to go, and she said, 'Have a great time Dad. Please don't wear the velvet jacket.' I texted back, 'Why?' 'Because it's weird, and embarassing.'"
The International is in theaters Friday.
Sources: Late Night with Conan O'Brien and PARADE