Bid on Stefani-Rossdale Hand-Me-Downs!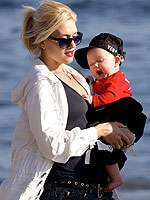 Flynet
Starting today, you could own toys or clothing used by Kingston James McGregor and Zuma Nesta Rock Rossdale — and all for a good cause! Gwen Stefani recently donated items used by her sons to handmedowns.com, a site that lets moms swap items with each other at a low cost. The site is auctioning off the Stefani-Rossdale hand-me-downs in its first-ever celebrity event, donating all proceeds to the Children's Hospital of Orange County and the Orangewood Children's Foundation.
"When Gavin and I found out we could donate some things the boys had outgrown to raise money for charity, it was automatic for us," Gwen tells PEOPLE.
The auction — which includes a stroller, shirts and more — ends on February 20th. Those looking for little girls' clothes, have no fear: Hand-me-downs from Harlow Winter Kate Madden will be up for bids in April!