Sophie Ellis-Bextor Welcomes Son Kit Valentine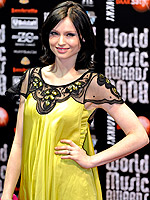 Eliot Press/Bauer Griffin
It's another boy for Sophie Ellis-Bextor, and by some accounts another scary birth. The UK's Daily Mail reports that Sophie has delivered her second son — named Kit Valentine Jones — nine weeks prematurely on Saturday, February 7th. He weighed in at 2 lbs, 10 oz.
Her first son, 4 ½-year-old Sonny, was delivered eight weeks prematurely in April 2004 via emergency cesarean, after the 29-year-old songstress developed the life-threatening condition pre-eclampsia.
Sophie's mum Janet Ellis tells the BBC, "Sophie's just had her second little boy. He was early, nine weeks early, but he is doing fine. He is doing very well." Sophie's rep confirms this, stating that mum and baby are "doing well."
Kit was due in April. He is also the second child for Sophie's husband, Richard Jones, bass guitarist for the music group The Feeling.
Source: Daily Mail