Sarah Shahi's Flirty Florals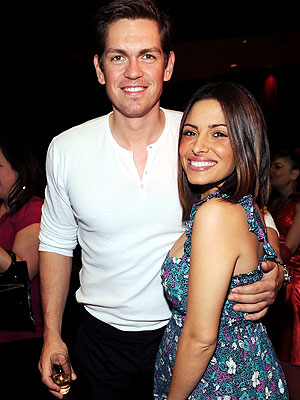 Denise Truscello/WireImage
Life star Sarah Shahi poses with her fiancé, actor Steve Howey, while attending Tony n' Tina's Wedding at Planet Hollywood Resort & Casino on Friday in Las Vegas, Nevada. The couple may be a little more than engaged — we hear they eloped over the weekend in Vegas!
Looking gorgeous in a colorful floral dress, Sarah, 29, is four months along with her first child, due this summer. Her role on Life will be altered to give her a break during the pregnancy, say the show's writers:
"Episodic television is a grueling schedule and Sarah and Damian [Lewis] were practically in every scene together, and we certainly can't expect Sarah to work 15-hour days … So we are going to carve Sarah out of the main story a little bit … and just give her some relief as well."
In addition to Life, Sarah will also be making an appearance on the series finale of The L Word next month. Steve, 31, known for his role on Reba, recently appeared in the movie Bride Wars.