Sandra Bullock Has 'Family In Spades'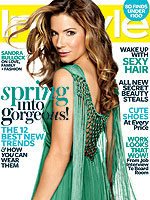 Courtesy InStyle
While many have waited and wondered whether Sandra Bullock will someday have a child of her own, the 44-year-old actress notes that together with husband Jesse James she has "family in spades" already. A step-mom to Jesse's children Chandler, 14, Jesse Jr., 11, and Sunny, 5, Sandra tells the March issue of InStyle "everything we do is about the kids," adding,
"My greatest joy is making our home what it's supposed to be. Being a good wife, a good stepmom, a good current wife to the ex-wife. We're a family."
That's not to say that Sandra has ruled out motherhood entirely — though she admits there was a time when she had. "I had shut that off…then I met Jesse, and it turned on again," she explains. "I was like, 'Oh, that's that feeling.'" The couple wanted "to take care of some other things on this planet first" before welcoming a child. "I hope to God when we get to a place where all is safe, calm, happy and healthy, it's not too late," Sandra adds. If it is, the couple are open to adoption.
"If I waited too long, it's because we were supposed to do other things. If it is just too late? There are millions of children on this planet that I would be honored to call my own."
Chandler, Jesse Jr. and Sunny are Jesse's children from two previous marriages. He and Sandra were married in 2005.