Maggie Gyllenhaal, Peter Sarsgaard Accept Help — Reluctantly!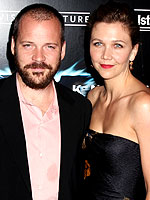 Janet Mayer/Splash News Online
In a joint interview with The Scotsman, actors Maggie Gyllenhaal and Peter Sarsgaard reveal their latest project together — Chekhov's Uncle Vanya, coming soon to a small off-Broadway theater. Their first project, the 2007 film High Falls, doesn't hold fond memories for Maggie, who shot her scenes while seven months pregnant with the couple's daughter Ramona, 2. "I didn't have an artistic mind at that time," she explains. "I hated the feeling of not having the energy to have a point of view."
Ironically, it is Ramona — their most important project together! — who was first and foremost in their minds as they contemplated sharing the stage yet again. The couple have vowed previously to always have one parent at home while the other is on location, but after establishing a childcare team that includes a nanny, Peter's parents, Maggie's best friend and Maggie's mom they were able to make it work. Adds Maggie,
"My mom kept saying, 'Michelle Obama's mom is going to the White House with them. It's fine.'"
Uncle Vanya runs through March 8th at the Classic Stage Company in New York City.
Source: The Scotsman