Kate Winslet Loves Her Body, For Mia's Sake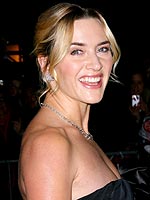 Splash News Online
Actress Kate Winslet has never been shy about disrobing onscreen, and while much has been made of her comfort with nudity, she says that her motivation comes from an unlikely source — 8-year-old daughter Mia Honey. "I don't know a single woman who doesn't stand up and check the tushie before she walks out the door," Kate tells Nightline. "I've decided I am going to start loving my backside, really just saying, yes." She adds,
"Because I don't know anyone who does that, you know? And for my daughter, I want to be able to say to her, I love this."
While shooting The Reader, a performance which has garnered her an Oscar nomination, Kate was absent from the lives of Mia and her little brother Joe Alfie, 5, for several weeks — the longest she's ever gone without her children. "In those moments of being away from them, you know, that was very new to me," Kate explains. "And they were fine, of course. I was the one falling apart, going, 'OK, I've unpacked my things, and now I don't know what to do because I'm in a hotel room by myself, which I can't remember what that feels like.'"
Calling her effort to maintain career and family a "massive juggle," she says she often "jumps through hoops" to make it all work.
"I'm on a plane tonight. I'll be home at five in the morning. And I will be on that school run tomorrow morning. I absolutely will be…It's crucial for our kids that we are the key people in their life. And I wouldn't want to have it any other way."
Mia is Kate's daughter with ex-husband Jim Threapleton; Joe is her son with husband Sam Mendes.
Source: Nightline