Ana Ortiz Expecting a Girl, Debuts Her Belly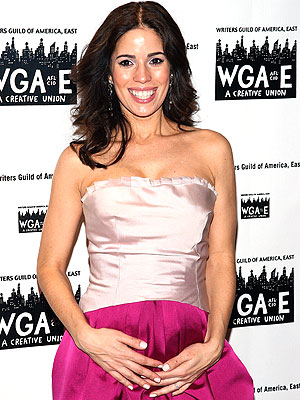 Theo Wargo/WireImage
In her first public appearance since announcing her pregnancy, Ana Ortiz tried her best to make her burgeoning belly visible on Saturday while attending the Writers Guild Awards in NYC.
Sharing the news that she's expecting a baby girl with husband Noah Lebenzon, Ana says the couple is trying to decide on names!
"This has been the biggest decision I've ever had to make. One day, I love a name, the next day, I hate it. There's a short list … I'd love to incorporate both my grandmothers. One grandmother is Ramona, and it's kind of one of my favorites."
As for how her pregnancy is going, Ana explains, "I've heard lots of horror stories, but I'm actually really, really enjoying this! I've never had much of a sweet tooth, but since I've been pregnant, all I want is cake. She's definitely given me a sweet tooth."
Friend and co-star Rebecca Romijn, who plans to pass hand-me-downs on to Ana, has also been sharing tips and tricks.
"She's given me all kinds of tips and pointers, especially in terms of how to keep my husband intimate," Ana laughs. "She told me to get this pregnancy pillow that you sleep with. She said Jerry tends to call it 'the husband blocker.' So I'm like, 'Is Jerry going to call up my husband now and commiserate with him?'"
The Ugly Betty actress, 37, expects her daughter in July.
Source: US Weekly