Reese Witherspoon On Her Southern Parenting Style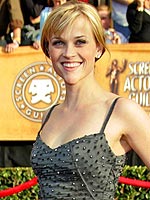 Reuters/Landov
A Nashville, Tennessee native, actress Reese Witherspoon has brought a taste of her southern-style living to Los Angeles. Raised in a familiar setting that included weekly manners classes and constant reminders to respect her elders, Reese is hopeful that her two children's upbringing will mirror her own, despite them growing up thousands of miles away from her hometown.
Adopting the laidback lifestyle that Nashville has to offer delights 9-year-old Ava Elizabeth and 5-year-old Deacon Reese, as the proud mama says a trip back to her roots always brings a smile to their faces. "They're crazy about the trees and the food. A creek runs through our neighborhood and they love to walk up and down it — just like I used to do with my brother."
Once the vacation ends, the trio find themselves back in sunny California; however, Reese is determined that the Los Angeles lifestyle will not shape her parenting beliefs. For Ava and Deacon, that means setting the table every night to enjoy dinner as a family and attending church services with their mom, who hopes to instill in her kids the "real sense of community" that is present in the south. "[Church] takes you out of your personal experience and universalizes it. You understand that whatever you're dealing with, someone in that room has either dealt with the same thing or will in the future. We are all struggling to figure out what life is about," says Reese, adding that "we are all just looking for answers."
Whether at church or out and about running errands, Ava and Deacon are expected to show others respect, as Reese shares she has taught the two how to properly address adults.
"I grew up in Nashville and my parents taught me to respect my elders. We'd say things like 'yes, ma'am' and 'no, sir' to adults. But kids in Los Angeles don't do that. I've drawn the line at my children calling adults by their first names. I tell them they can call people 'Miss Shannon' or 'Miss Heather' but that using only first names is too familiar. Maybe I'm just old-fashioned."
Continue reading for more on Reese's views on parenting.
Despite laying down the rules for her kids, Reese says that she is far from being strict. Instead, the actress explains that she is simply providing her children with what most people crave: structure. "We just want to know when we've done something right or wrong. That's what I'm trying to teach my own children," shares the proud mama. Taking her time to balance praise with discipline in a respectful manner — she is adamantly against "humiliating children in front of their peers" — Reese is all for letting her family have fun (and enjoy a treat or two!) as they slowly become aware of the world around them.
"I give each of the kids five dollars when we go to the farmer's market on the weekends. They can buy something, save it, or spend part of it and save the rest. My son is just like me: The minute he gets the money, he spends it all on something delicious. But my daughter will go around the market for a half hour weighing the possibilities until she buys one thing."
Up next for Reese is the release of her movie Monsters vs. Aliens on March 27th. Lending her voice as Ginormica, the girl who goes on to save the planet, the actress was thrilled to send such a positive message to young ladies. "Now, that's the kind of role I want to play. She finds her inner strength and becomes part of a family that embraces how strong she is. That's what I want little girls to see," says Reese.
Ava and Deacon are Reese's children with ex-husband Ryan Phillippe.
Source: Reader's Digest