Isla Fisher Lunges Her Way to Film Premiere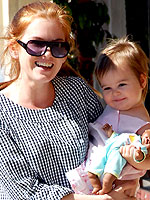 INF
It's not often that you'll witness lunges on the red carpet, but Isla Fisher was only too happy to demonstrate for reporters Thursday how she shed 50 pounds of baby weight in time to star in Confessions of a Shopaholic. "[Motherhood is] the greatest thing that's ever happened to me," the 33-year-old actress, mom to 15 ½-month-old Olive, beamed at the premiere. "At the moment I love singing Row, Row, Row Your Boat with my daughter."
All that singing might pay off with a career as an entertainer for Olive, and from the sound of things, she's already well on her way! Director P.J. Hogan revealed that Olive was a fixture on the set of the film, which opens February 13. Joking that "there were a couple of scenes she had some good ideas on," P.J. added,
"She's not a diva at all. She was a well-behaved little baby. She was well-liked. I just wish the baby had played a part in the movie!"
Olive is Isla's daughter with fiancé Sacha Baron Cohen.
Source: OK!