Dave Grohl's Baby Blues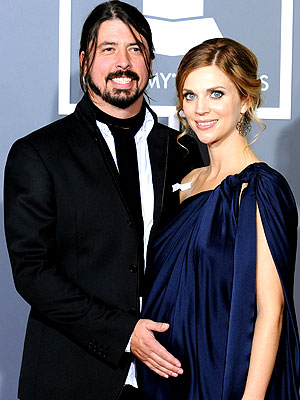 Axelle/Bauer-Griffin
Draped in a one-shouldered navy sateen dress, Jordyn Blum Grohl, 32, remained mum about her specific due date — "springtime" is all she'll say — while posing with husband Dave Grohl on the Grammy red carpet last night in Los Angeles.
Foo Fighter Dave, who normally grabs a guitar and plays frontman these days, instead sat behind a drum kit as he did during his time with Nirvana, joining Paul McCartney for a rendition of "I Saw Her Standing There."
Dave, 40, and Jordyn's new baby will join big sister Violet Maye, 2 ½. Curious about Dave's white knot on his lapel? Check out WhiteKnot.org.