Teri Hatcher Says Children Shouldn't Work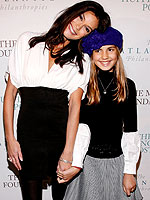 Joe Kohen/Getty
When Teri Hatcher's daughter Emerson Rose, 11, was asked to perform voiceover work in Teri's new film Coraline, the 44-year-old actress admits she was torn. "I'm very much not a believer in children working," Teri tells MoviesOnline.ca. "When I talk to her about it, I say, 'There's just your whole life, your whole life to be rejected and responsible and have to pay a mortgage and all kinds of things like [that].'" On the other hand, Teri says she is a big believer in "opportunity." Mother and daughter balanced the risk versus the reward, and ultimately decided that the latter outweighed the former. "We travel so much together around the world and do charitable things together and live all sorts of luxury experiences, and then very down to just camping with nothing experiences," Teri says. "So I believe in children having experiences."
Emerson — who was "just entranced" with the story, according to Teri — was approached by director Henry Selick "on a lark" as she waited for mom to record her lines one day. "There was no guarantee she was going to be in the movie, there was no one said that, it was just sort of … an experience and a mother-daughter thing," Teri says. "Ironically it's a mother-daughter movie that she got to experience." Adding that she loves "everything" about being a mom, Teri says she hopes that her daughter will "leave the world a better place than it was before."  From the sound of things, Emerson — whom Teri calls a "healthier version" of herself as a child —  is already well on her way.
"She's way better than me. Oh, she's just a wonderful, wonderful child with great balance of adventure and patience and kindness, self-confident. She's a great kid. I'm sure that I had a lot to do with it, but not everything. She's got a good father too, and good grandparents."
Emerson is Teri's daughter with ex-husband Jon Tenney. Coraline is in theaters now.
Source: MoviesOnline.ca