Nancy O'Dell Says Her Spiral Throw 'Won Over' Stepsons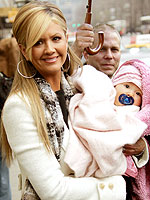 Ramey
Since her decision to maintain a healthy lifestyle that included running daily after her move to Los Angeles in 1996, little has been able to deter Access Hollywood's Nancy O'Dell from fulfilling her goal. However, that isn't to say that there haven't been several bumps in the road along the way forcing the 42-year-old to sit it out on the sidelines. From suffering a "bulging disc," finding out she was expecting her first child, and spending time with her mother after she was diagnosed with Lou Gehrig's Disease, Nancy placed running on the back burner. "I had the baby and I was too busy for a while. And then my mom was really sick and I was focused on that and trying to tend to her," says Nancy. When her mother passed away, a "down and out" Nancy realized her need to "get out of this funk" and hit the pavement, running five days a week.
While "the majority" of her workout is running — "it always makes me feel healthiest" — Nancy shares that her fascination with sports not only keeps her in shape, but also originally provided common ground between her and her stepsons Tyler, 13, and Carson, 9.
"I love sports, so I play basketball and I throw the football with my stepsons. That was the way I won them over a little bit. I dated a football player in college and he taught me to throw a spiral. So I was cool, I was okay; I was in once they realized I could throw a spiral."
Continue reading to find out how Nancy incorporates her family in her daily jogs!
When Nancy and the boys aren't tossing a ball in the backyard, the family — including her husband Keith Zubchevich and their 19-month-old daughter Ashby Grace — spend their time strolling their neighborhood. Although Keith "doesn't run much because he has a bad knee," Nancy explains that he often walks with Ashby as the boys ride their bikes as she will "run ahead of them and then I circle back around."
Finding mother-daughter alone time for Nancy is easy – she simply packs up Ashby in her jogging stroller and the two are ready to hit the trails! An experienced runner, the proud mama is quick to share some tips and tricks on exercising with a jogger, saying "make sure you don't hit any bumps. The strollers are kind of equipped for that, but still, because you're going at a faster speed than pushing, you have to be a little careful." According to Nancy, however, the benefits of jogging while pushing a stroller provide her with a unique workout routine. "I feel like it works your arms out a little bit. But it's a little different," notes the runner.
Source: Runner's World