Jessica Leccia Rediscovers Love of Ice Cream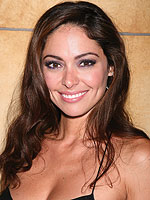 Howard Wise/JPI
As Valentine's Day nears, Guiding Light star and expectant mom Jessica Leccia is just happy that her husband Brian Malloy makes "me feel like I'm still attractive on a daily basis." In fact, she believes that "that's the most romantic thing anyone can do for a pregnant lady," jokingly adding that "he's required to tell me" how attractive she is.
Kidding aside, the actress knows that "I do require a lot of attention these days" but that Brian is "really good at giving it to me, so I'm very, very thankful." The expectant mom doesn't need romance right now, instead "what's important to me are foods, snacks, belly rubs." Cravings are a big part of pregnancy for many women, and Jessica is no different. She is currently rediscovering her love for ice cream.
"I started eating ice cream again. I hadn't eaten it in awhile, but I'm back on it, like a drug. Recently, it's been chocolate chocolate chip. It's bad, but it's so good."
Jessica, 33, has portrayed the character of Natalia Rivera since joining Guiding Light on April 25, 2007. She and Brian were married May 3rd, 2008 in Puerto Rico. This will be their first child.
Source: Soap Opera Digest, February 17th issue