Dierks Bentley Pens 'Boob Song' For Evie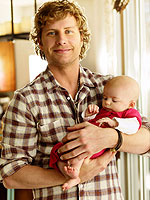 Brian Doben for PEOPLE for use on CBB
Writing songs comes secondhand for country sensation Dierks Bentley, so it only made sense that he would pen one for his 4-month-old daughter Evalyn 'Evie' Day. To help inspire him for writing the song, Dierks looked to what his little girl loves most — boobs. The ditty of choice?
"'I love boobs, boobs, boobs. Boobs. Boobs. Boobs.' 'Cause she does, she loves boobs. I thought I was a big fan of boobs, but she really likes boobs. But that's never gonna be released on an album."
Evie is the first child for Dierks and his wife Cassidy. Dierks' new album, Feel That Fire, is available now.
Be sure pick up this week's issue of PEOPLE and this month's PEOPLE Country Special for photos of Evie and her parents. See an online exclusive here!
Source: Entertainment Weekly