Rick Astley Says Daughter is Conflicted About His Career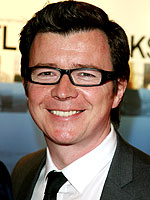 Jon Furniss/FilmMagic
When 1980s superstar Rick Astley, 42, walked away from his music career he did so with full knowledge of what he was giving up. "I chose sanity and I have never regretted it," he tells This Is Lancashire. "My wife and I had a baby at that point and I just thought 'this really isn't worth it.'"
That baby — Emilie —  is now 17, and she has mixed feelings about dad's status as a former superstar, recently revived due to the Rickroll meme. "My daughter is suitably embarrassed and proud at the same time," Rick explains; While Emilie has "some idea of what went on in the past," the two rarely talk about it. He adds,
"I have been very aware of the fact that it's uncool for your dad to be an '80s has-been. That's not comfortable for a teenager. That's not as cool as being Bono's daughter. But saying that, I bet it's hard being Bono's daughter sometimes."
Emilie is Rick's daughter with wife Lene.
Source: This Is Lancashire