Parminder Nagra Ready to Shop for Baby Items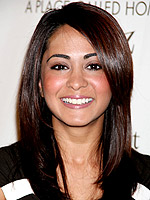 Howard Wise/JPI
Actress Parminder Nagra loves to shop and now that she is five and a half months pregnant with her first child, she is even more excited. The ER star recently bought "two maternity tops from A Pea in a Pod in LA" but has not found herself having to buy a lot of maternity clothes. "I buy normal clothes, just a size bigger," shares Parminder. "I have had to buy maternity jeans though."
The actress "just started" shopping for baby items and is trying "not to get carried away though, because all the clothes are so cute." To help out with what she really needs to buy for the baby, the 33-year-old is listening to her mother — even if it's only in her head!
"I saw some ridiculously expensive designer baby shoes, but I could hear my mother's voice in my head saying: 'The baby will grow out of them in four weeks.'"
Parminder recently married her longtime boyfriend James Stenson on January 17th.
Source: The Guardian