Kevin Bacon Treasures Making Music With Kids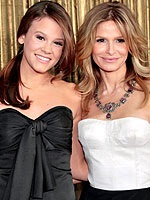 Jae C. Hong/AP
Acting is big part of actor Kevin Bacon's world, but so is music. The 50-year-old currently plays in a band with his brother (called, shockingly, The Bacon Brothers) and his son Travis Sedgwick, 19, is following in his footsteps and "is in a few bands — his passion is music." Kevin shares that his son is "not into acting" and daughter Sosie Ruth, 16, doesn't appear to be either.
Currently, "she's in high school and dealing with that. She's starting to think about college. So far she hasn't come to us and said, 'Guess what, I want to be an actress.'" However, "she's a beautiful singer" and Kevin loves to spend time with Sosie making music.
"One of the things I really relish is the time when she'll come to me and say, "Can we work on this song?" I'll figure it out and find a key that works for her, accompany her while she sings. It's my favorite thing to do."
Mom is actress Kyra Sedgwick.
Source: Captiol File Magazine