Harry Connick Jr. Leads by Example With Daughters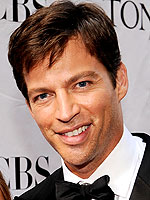 Larry Busacca/WireImage
When it comes to teaching his three daughters right from wrong, Harry Connick Jr. says he looks to his own childhood for inspiration. "When I was a kid, if we were at the supermarket and there was a lady putting her bags in the trunk of her car, my dad [would] say, 'Go out and help that lady,'" the 41-year-old actor and singer explains. "That's just what we did, no questions asked."
"I think it's important for my kids to know that you help people. You do what you're supposed to do. Do your work and help people, that's all you can do."
When asked whether he offers Georgia Tatom, 12 ½, Sara Kate, 11 and Charlotte, 6 ½, any advice on how to give back, he replies that it's "more [about] showing them." Married to model Jill Goodacre for 14 years, Harry admits he's "reluctant to give advice," because he doesn't like receiving it. "I like to find things out for myself," he explains. It sounds as though the apple hasn't fallen far from the tree when it comes to Georgia, who hasn't "really sought" any advice from her parents as she's begun dating. Not that Harry is worried!
"She's got a pretty big head on her shoulders, and she's pretty good with making decisions. She's very independent, but she does know that I'm there for her if she needs me."
Harry's new film New In Town is in theaters now.
Source: ReelzChannel.com