Gerard Way Left Speechless By Wife's Pregnancy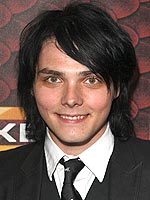 Jason Merritt/FilmMagic
My Chemical Romance's Gerard Way has remained mum when it comes to the topic of the baby that he and wife Lindsey 'Lyn-Z' Ballato are expecting this summer — but "not because it's so personal that I'm not gonna comment upon it." Instead, the dad-to-be explains he isn't quite sure what to say. Gerard, 31, shares in a new interview with Kerrang! that he's "very excited" about the pregnancy but that he doesn't "know how to begin to even start talking about something like that!"
The rocker, who admits the pregnancy was a surprise to him and his wife, hadn't "ever thought about having a kid … But then I also didn't expect to meet Lindsey, and when I met her I knew she'd be the one person I could have a kid with." This will be the couple's first child and the first baby in My Chemical Romance.
"It wasn't like it was as big a deal to people as I thought it might have been: like when I told Ray [Toro, My Chemical Romance guitarist] and told the guys everyone was really psyched but it wasn't like, 'Oh my God!' Everyone was just really genuinely excited for us. It's totally crazy to be the first one in the band [to become a father]."
Gerard says he and Lindsay — bass player for Mindless Self Indulgence — don't know the sex of their child, "but we know the baby is healthy and it's growing great." The couple was married on September 3rd, 2007.
Source: Kerrang!