Cate Blanchett Stays Organized for Boys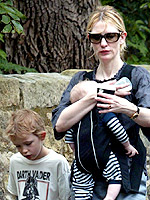 INF
When she arrives on location with her three boys in tow, Cate Blanchett's first request is always for a schedule. Not only does it show the 39-year-old actress where she needs to be and when, but it enables her to begin the process of injecting normalcy into the lives of Dashiell John, 7, Roman Robert, 4 ½ and Ignatius Martin, 9-months, under abnormal circumstances. "You have to be organized," she explains. "When life changes as much as it has or does for them, then it really is important that the architecture is there." She adds,
"Kids do want to know what time you are home, who is making the dinner. They need that routine. They need to know who is reading the story."
Whether it's Cate or her husband Andrew Upton flipping the pages, lately the story they've been reaching for is My Dad by Anthony Browne. "The boys love it," Cate shares. Another favorite is the Finn Family Moomintroll by Tove Jansson. "The kids don't quite get it yet," she explains. "It is a bit psychedelic for them but it is still fantastic." Roald Dahl also receives a warm response from the boys, which is why their mom is excited to voice the wife of Mr. Fox in Wes Anderson's animated adaptation of The Fantastic Mr. Fox. From the sound of things a slowdown is in the works, however. "Going forward, the children are getting to school-age, so it is more difficult to travel, and I wouldn't want to continue working at the pace I've been working for these last few years," Cate says.
"I balance my professional and my home life as badly as any other working mother. It is no different from anyone else who is engaged with their kids. It is tricky."
Cate's latest film, The Curious Case of Benjamin Button, is in theaters now.
Source: Sunday Herald