Billie Piper Says Motherhood is 'Quite Full-On'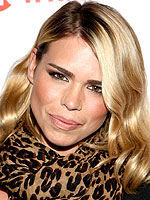 Alberto E. Rodriguez/Getty
Billie Piper recently wrapped season 2 of Showtime's Secret Diary of a Call Girl, and is already gearing up to shoot season 3 beginning in March; For the first time she will also executive produce several episodes of the buzzworthy show. "It's cool," she says. "I'm really excited." Beyond that, however, the 26-year-old actress says she remains happily unattached to any other film or television projects. "I'm going to wait for the right thing to come along and until that happens, spend time with my son," she explains. "I don't really want to rush into anything that isn't right or doesn't inspire me."
Hopefully 3-month-old Winston James makes it worth her while! Billie, who has lamented the sleep deprivation of new motherhood previously, says that she's begun to see the light at the end of the tunnel.
"It's all quite full-on at the moment. You spend a lot of time awake! I think the worst of the bad sleeping is drawing to an end."
Winston is Billie's son with husband Laurence Fox.
Source: TV Guide