Teri Hatcher Creates Imaginative Space for Emerson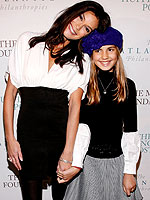 Joe Kohen/Getty
Telling Parade that she defines herself "as a mother first" Teri Hatcher's devotion to daughter Emerson Rose, 11, is unquestionable. Since her divorce from Jon Tenney in 2003, she has raised Emerson as a single mom — and the assistance of a partner isn't the only thing she's foregone. "I've created a space for my daughter to have a very imaginative life by removing television and video games," the 44-year-old actress says. "It's not like I banned them, we just never watched television when she was growing up." As a result, Emerson has benefited greatly. Explains Teri,
"It left a space to fill with running around the yard pretending to be Peter Pan and making poison soup that you feed to the witch, just whatever crazy idea you want to come up with that ultimately, I think, lets children work out issues of their own growth and their own timely experience. I think that's what dreams are about. That's what imagination is about."
Asked to rate herself as a mom, Teri said she's good, and noted that actions speak louder than words. "I've made a lot of career sacrifices and relationship sacrifices in order to make my daughter a priority — to be there, to be able to give her what I think she needs and what we need together," she says. "I will never be sorry for that a day in my life." She adds,
"That's the most important thing I've ever done and the most important thing I ever will do."
Teri's new movie Coraline is in theaters today.
Source: Parade