Salma Hayek Opens Up About Weaning Valentina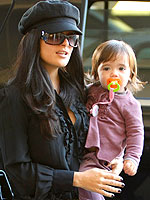 Flynet
Singling out breastfeeding as "the best thing you can ever do for your child," Salma Hayek nonetheless feels that "you have to know when to stop." In a new interview with USA Today, the 42-year-old actress goes on to reveal that contrary to suggestions she was never "addicted" to nursing; In fact, weaning her 15-month-old daughter Valentina Paloma was far more straightforward than even Salma had thought. "We were two weeks off, and then she grabbed it again," she explains. "One time she asked me for it and I said no." When Salma explained why, Valentina's response was surprising.
"It was so easy…She looked at me and she understood. She kissed me and that was it."
On Thursday Salma helped launch the second annual Pampers/UNICEF program to stop the spread of maternal and neonatal tetanus, which provides tetanus vaccines throughout the Third World. She initially declined the opportunity to participate in the campaign but had a change of heart after a trip to Sierra Leone. "I had the baby and I had so much on my plate, and I said that this year, I'm taking a break from charity; I cannot do it all," Salma says. "But…you cannot walk away from this one." Her commitment is unquestionable; While in Africa, Salma visited a clinic where she witnessed a mother struggling to feed her baby, and she snapped into action. She reveals,
"The baby was perfectly healthy, but the mother didn't have milk. He was very hungry. I was weaning Valentina, but I still had a lot of milk that I was pumping, so I breastfed the baby. You should have seen his eyes. When he felt the nourishment, he immediately stopped crying."
Click below to read Salma's thoughts on having more kids.
Although Salma and François-Henri Pinault called off their engagement last summer, she happily reveals that the twosome are still very much a couple. "This is the best father," she says of François. "I was meant to have this baby with this man." Adding that she is "so happy" she "didn't settle," Salma feels that everything has happened for a reason.
"Had I not [waited], I don't know what my life would be like. You always have to believe there's a greater future, and you have to recognize it when it comes."
Whether or not the two will go on to have more children remains an open question. "Maybe," she says. "We'll see." Although she welcomed Valentina at the age of 41, and although her daughter isn't the most solid sleeper, Salma says she has "a lot of energy" nonetheless.
"I don't feel like, 'Oh my God, this is too late.' When you turn 40, it's a lot easier than 30. They lied when they said you get old when you're 40. The best is the 40s."
As Salma conducted the interview from a New York City hotel room Valentina was off playing in Central Park, and their goodbye led to "a lot of crying on both sides." Admitting that she is "not used to separating" from her daughter, it's something Salma recognizes she needs to work on. "I guess I have to start separating a little bit," she concedes. "I'm still with her all the time." Calling her daughter "such a happy baby," Salma says that Valentina's demeanor is rubbing off on mom's career choices, as well!
"I'm having a hard time picking because I don't want to do violent things, I don't want to do too-dark things, and I'm getting those offers. I'm being very picky. I haven't worked in a long time, but I'm doing pretty great. I don't want to go to a dark space right now."
Source: USA Today