Alessandra Ambrósio Says Anja Amazes Her Every Day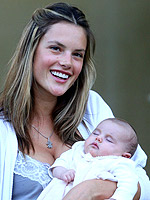 Frazer Harrison/Getty
There's nothing like bouncing back after baby! While many women struggle with losing those pesky extra pounds after giving birth, Victoria's Secret model Alessandra Ambrósio says the work has been piling up more than usual since welcoming her first child, daughter Anja Louise, now 5 months. "I am working pretty much every day," admits the new mama in an interview with OK!. In an effort to regain her fabulous figure for the photo shoots, Alessandra found herself "working out [and] eating really healthy," but reveals she has since gone back to her old eating habits. "I try to do yoga once a week. Basically, that's it right now. I'm back to my normal eating. Fries, barbecue, but I also like to eat healthy," says Alessandra.
Juggling the responsibilites of her career as she navigates her way through motherhood is a job in of itself; Luckily, Alessandra's family has been on hand to offer their support. "I have a family that helps me and they help me take care of my daughter when I'm working," reveals the 27-year-old. However, when her demanding days of work are over, Alessandra instantly becomes a full-time mom, "spending time with her and seeing her grow up." According to the proud mama, she can constantly expect a new memory with her daughter, as Anja "does something different" every day!
"Right now she loves her feet and she's finding her feet and sucking her thumb. That's the cutest thing right now."
A model who has hit the runway in some of the season's hottest items, Alessandra shares that her excitement over dressing herself to the nines has faded away. "I'm not thinking about me that much anymore," she says, adding "it's so much cuter" to browse for baby clothes. With a model mama, baby Anja will no doubt be seen out and about sporting some adorable fashion finds whether it be in Brazil or America — Alessandra's top two choices for raising her daughter.
"I'm going to raise her both places. Half Brazil and half American, that's how it goes. In Brazil, there's this thing where people are really happy. Whatever they go through in life, they're really happy, and that's one thing I want her to feel like. Here in America, people are very professional. They're serious and that's another thing I want her to have."
Anja is Alessandra's daughter with fiancé Jaime Mazur.
Source: OK!