Garcelle Beauvais-Nilon Totes Her Twins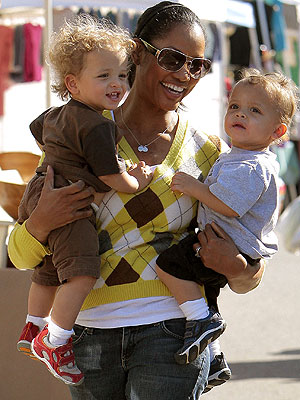 Crenshaw Mafia/Splash News Online
Talk about heavy lifting! Garcelle Beauvais-Nilon has her hands full with a tot on each arm while shopping at the farmer's market on Sunday in California.
Fraternal twins Jaid Thomas (l) and Jax Joseph (r) each made mom smile during the trip. The boys are Garcelle's sons with husband Mike Nilon.
Garcelle, 42, is also mother to son Oliver, 18, from a previous marriage. She recently explained that having children in her 40s has made her a more mature mom.
"I feel like I am more woman now. I also have more patience and I don't sweat the small stuff as much!"
Jaid wears Stride Rite's Rio in Red/Grey while Jax wears the same shoe in Navy/Galaxy Blue ($50). Garcelle wears Swank Mommy's Birthstone Discs ($60), which she received as part of the boys' It's Fun to Be One giftbag.
CBB Deal: Receive 20% off with code JP20 (does not apply to gold).