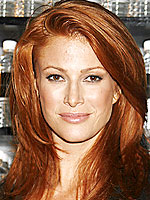 Amy Sussman/Getty
E! Online reports that Angie Everhart is a bit over 14-weeks pregnant with her first child. Most recently linked with actor Joe Pesci, from whom she split in April, the 39-year-old actress and model says that the baby's father is instead "nobody you know." She adds,
"The dad is very nice and he's very excited about it, but we are not a couple."
Her life as a single mom-to-be could be coming to a television near you, for she is currently shopping around Angie Baby – a reality show which will chronicle the pregnancy. "I decided to do a show about me being a single, strong, healthy and good-spirited woman who is having a baby on her own," she explains. "I want to show the positive aspects of women who do it on their own."
Baby-on-the-way is due in late July/early August.
Source: E! Online