Elisabeth Hasselbeck Says Her Kids are 'Pretty New York'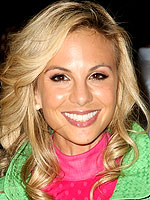 Andrew H. Walker/Getty
Whether it's enjoying a brown bag lunch on the roof of the Met or visiting one of the numerous Central Park playgrounds they know by name, Grace Elisabeth Hasselbeck, 3 ½, and Taylor Thomas Hasselbeck, 14 ½-months, are New Yorkers through and through. "My son loves sightseeing, and my daughter knows the subway system better than I do," their mom, The View co-host Elisabeth Hasselbeck, tells Time Out Kids. "She told me the other day while we were waiting for the bus, 'Mommy, I'm just going to hail a cab'… That's pretty New York!"
The best part of raising kids in the city? The energy that surrounds them everywhere they go. Says Elisabeth,
"There's vibrancy here. Everything is charged with information. Every day is a learning experience for city kids, and they are really sort of forced to interact with everyone around them and develop into social beings."
There are drawbacks, however. Elisabeth, 31, complains that the crowded sidewalks leave little room for her double jogging stroller, and she admits that she considers a move to the suburbs "every single day." Ultimately, the short commute is what keeps her in the city. "I would love the extra space, but I couldn't handle knowing how much time I was spending just getting from one place to another when that time could be spent with my family," Elisabeth explains, adding,
"I never use the word balance, because it's more about juggling than anything else. I prioritize the things that need to get done at work, and I ask myself where I'm spending the majority of my time. The answer to that question always needs to be 'with my family.'"
Grace and Taylor are Elisabeth's children with husband Tim Hasselbeck, whom she married in 2002. She is currently expecting her third child, due in August.
Source: Time Out Kids