Bear Grylls Shares Details on Huck's Birth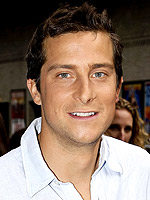 Brian Ach/WireImage
Bear Grylls faces numerous hair-raising situations during the filming of Man vs. Wild, but nothing amazed him more than watching his wife Shara give birth naturally to their third son Huckleberry 'Huck' Edward Joscelyne two weeks ago. "Shara had him at home," notes Bear, who says that it "was interesting, with me armed to the teeth and holding the toolbox at the ready" in case he was needed.
"She did it all with no pain relief … I tried to give her an aspirin at half way but then remembered she wasn't even allowed that as it thins the blood!"
The 34-year-old is not the only one excited about the arrival of Huck, who he calls "pure heaven." Brothers Marmaduke 'Duke,' 2 ½, and Jesse, 5 ½, "are so happy to have a baby brother. The three Musketeers."
Man vs. Wild airs Mondays at 10 p.m. on the Discovery Channel.
Source: Bear's Official Blog