Greg Vaughan's Son Cuts Loose at Super Soap Weekend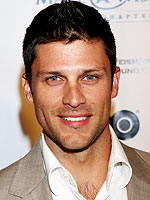 Arnold Turner/WireImage
If General Hospital star Greg Vaughan isn't careful, his 20-month-old son Jathan James may soon upstage him because "that kid is something!" At the Super Soap Weekend in November, Jathan "made a stage announcement in front of the live audience" when he introduced Brandon Barash [Johnny, General Hospital].
After the introduction, Greg "let him get down on the dance floor, and he started breaking it down real good. The audience went wild." It turns out that they were not the only ones who loved Jathan's performance.
"[Daytime, Disney-ABC Television Group President] Brian Frons was watching him dance for like an hour and a half and said, 'That kid is like an Energizer Bunny.' He's ready for the junior edition of Dancing With the Stars."
Greg, 35, and his wife, model Touriya Haoud, 31, have been married since June 4, 2006.
Source: Soap Opera Digest, February 2nd issue