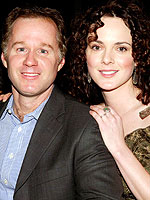 Matthew Peyton/Getty
In better late than never news, tennis star Patrick McEnroe and his wife, singer and actress Melissa Errico, welcomed twin girls last fall! In her first update to her fans since the birth of the baby girls, Melissa shares that daughters Diana and Juliette were born on Wednesday, November 19th at 38 weeks. While the songstress considers herself "lucky" to have carried the twins full-term, she admits that the couple still hadn't chosen names for their new babies! After spending the first few days referring to the girls as "A and B because I couldn't decide for sure on names," the 38-year-old realized she had to make a decision.
"I loved the name Diana because it means 'goddess of the hunt' and 'goddess of childbirth' and I wanted to find a nice name for the smaller baby (B) and couldn't decide between Caroline and Juliette. I love Juliette and that name won out after I spent a few days calling her Caroline and finding myself confused how to pronounce it (Carolin? or caroLINE?)."
Nervous for the couple's older daughter Victoria Penny, 2 ½, to meet her new little sisters, Melissa admits she found the meeting between the girls — when the twins were three days old — left her a bit sentimental! "That was emotional for me — I really wanted her to not be afraid, to be excited, to accept all these changes as much as possible." However, while seeing her mama in the hospital was "a little unnerving" for Victoria, Melissa shares that "the day turned out beautifully."
Source: Melissa Errico Fan Club
Thanks to CBB reader Natalie.