Scott Baio On His 'Delicious' Daughter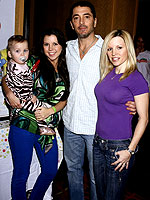 Jeffrey Mayer/WireImage
During a Wednesday appearance on The Rachael Ray Show, actor Scott Baio opened up about the scary medical ordeal he and wife Renee endured following the birth of their 14 ½-month-old daughter Bailey DeLuca. "It's just one of those things," the 47-year-old actor explained. "But she was falsely diagnosed [with Glutaric Acidemia Type 1 or GA1] for a reason." That reason — as far as the Baios are concerned — is to help others through the Bailey Baio Angel Foundation, which among other things raises funds for families dealing with children diagnosed with metabolic disorders. "It's the least we can do," Scott said. "We're lucky."
"I can't imagine not seeing my daughter every day. The only word I have to describe her is delicious."
Bailey made a brief appearance during the taping, showing off her new-found walking skills. "She just started a couple of weeks ago," Scott revealed. The proud papa said that when it comes to his daughter's future, he hopes that in at least one aspect the apple will fall far from the tree. "I would probably discourage her from pursuing a career in showbiz," he said.
"[There is] a lot of using and a lot of manipulation, and knowing now what I know, I would not want to see her go through all the stuff I went through and stuff I've seen other people go through."
Source: The Rachael Ray Show — see a clip of Bailey walking at the link!