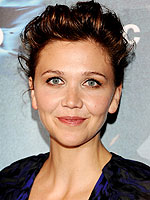 Carlos Alvarez/Getty
A native of New York City, but raised in Los Angeles, Maggie Gyllenhaal admits that the city that never sleeps is proving to be less than an ideal setting to raise Ramona, her 2-year-old daughter with fiancé Peter Sarsgaard. Revealing to Time Out Kids that the couple "are leaning toward maybe getting out of here" to settle in the country, the actress can't help but feel torn, feeling grateful for the abundance of activity in her backyard. "There are wonderful things about being in the city. It's really easy to get your kid together with other kids," notes Maggie, who often takes her daughter to music and dance classes. With a list of "all these little things to do," there is never a dull moment for the family, however, Maggie ponders whether Ramona is truly able to appreciate city life at such a young age.
"While the city is great when you're older, with a two-year-old I definitely feel like I'm stopping her every minute and saying, 'Don't pick up that cigarette butt! You know that's disgusting!' instead of just letting her be a little freer, like I imagine we could if we lived in the country."
With countless kid-friendly places for the mother-daughter pair to explore, Maggie finds her greatest frustration is the trek through the transportation system, which for the actress, seems to be an adventure in and of itself! Admitting that she does "not understand how I'm expected to take the subway" with her toddler and stroller in tow, the 31-year-old applauds the countless moms who courageously venture out with their kids! Finding the weekends particularly difficult — "my subway station closes its gates and the attendant leaves on the weekends" — the actress is yet to learn the tips and tricks of maneuvering through "one of those little circular things" with her arms full. She adds,
"I mean I'm thinking…if I had another child I don't know how I would do it. I know that there are many women who have more than one kid and have to do it. I just don't know how they make it work! Why can't the subway be made more child-friendly? I'm a big fan of public transportation, but it's just so hard."
Continue reading to find out Maggie's take on working and preparing for preschool!
Starring in several films since the birth of her baby girl, the proud mama is on the prowl for movies with meaning as she searches for scripts that "justify being away from Ramona all day." Although Maggie found herself accepting roles that she found "kind of interesting" in the past, she shares that her desire to spend time with her daughter has her expectations set high. "Now it has to be amazing," she explains.
However, the responsibilities of a child have also forced the actress to "make all sorts of sacrifices," including ones she is reluctant to make, but has to "because I'm a mother." Recalling a past project that caught her eye, Maggie reveals she was left with no other option but to turn the offer down after she found herself without a nanny at the time. The slot left open as a result of slowing down her career was quickly filled, as the couple — who are "not totally freaking out" —  have begun to investigate preschools for Ramona.
"I would say I spent my entire fall, really, researching which schools I wanted to apply to for her. I put more energy into that than almost anything I can think of recently."
Source: Time Out Kids