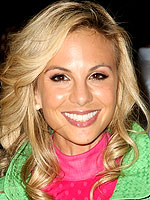 Andrew H. Walker/Getty
Elisabeth Hasselbeck is expecting her third child, she announced Thursday morning on The View. The new baby is due in August and was a pleasant surprise for Elisabeth and her husband Tim.
"We were thoroughly happy with the surprise of it. I didn't even know for two months. I was walking around. I thought I had electionitis. I was tired, I was nauseous, I thought I was worn out from the whole procedure. No, I was knocked up and didn't realize it!"
The 31-year-old is already mom to 3 ½-year-old daughter Grace Elisabeth, and son Taylor Thomas, 14 months.
Source: The View via PEOPLE — see video of the announcement at the link!