Julianne Moore Motivated to Find a Medium Between Motherhood and Movies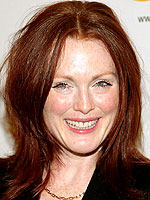 Michael Loccisano/FilmMagic
The month of December holds special meaning in the Moore-Freundlich household — not only did actress Julianne Moore celebrate her 48th birthday, but her son Cal blew out 11 candles only a day later! Ready to make this year extra special — which also included taking Cal's braces off; a celebration in of itself with a few sticks of gum — the duo made plans to take to the skies and travel on a trip for two to Paris. The special vacation, prompted by Cal, left the proud mama over the moon, she reveals in a new interview with Redbook.
"Two months ago, apropos of nothing, my son said, 'Mommy, for our birthdays, instead of a party, let's go to Paris, just the two of us.' This is probably the last time in his life Cal will want to go somewhere alone with his mother. I was flattered and thrilled."
While having a celebrity mother allows for a few added perks, Julianne — whose brood includes 6 ½-year-old daughter Liv Helen —  tries her best to maintain a stable environment for her family in New York City. Making an effort to schedule her movie roles during the summer months, if not within the city limits, the busy actress is determined to maintain a happy medium that includes not only her responsibilities of motherhood, but also nurturing her successful career. "Every woman I know strives for flexibility, and I fortunately have a tremendous amount of it," says Julianne. In a household where Julianne and her husband Bart are "definitely coparents," the couple — albeit a few tasks; she refuses to take part in anything "sports-oriented" while he leaves the decorating duties up to her — have both become the designated disciplinarians, each enforcing certain rules. Explains Julianne,
"When I talk to other mothers, they say that sometimes dads get mad at things that kids can't help. If a kid is having a tantrum, dads will be like, 'Stop that right now.' Moms will be like, 'He's out of control. You can't discipline; you have to find a way to contain it.' Whereas moms get angry if someone breaks a rule. The rule is: Don't wipe dirty hands on the wall, and dad says, 'What's the big deal?'"
Continue reading for more on Julianne's thoughts on having a son and what made her almost tear her hair out!
Despite her strong system of rules for her two children — television is strictly limited to the weekends —  Julianne wasn't always such a confident mother. Sharing that her first pregnancy was a welcomed surprise, she admits her initial thought of having a son had a "very female-identified" woman doubting her ability to relate to boys. However, a few words of wisdom from her mother-in-law calmed the worried mama-to-be and allowed her to enjoy the gift of motherhood. "You're not giving birth to someone who is going to sit up and say 'I'm turning on Sports Center,'" laughs Julianne, who explains that watching "boy babies turn into boy toddlers" allows for a mom to "figure out who that child is."
Finding her way through the maze of motherhood has also given the actress a crucial virtue needed for raising children: "a tremendous amount of patience!" In Julianne's case, learning to adapt to a child's pace — literally — has taught her to slow down her stride. "Just walking down the street with them, I thought I was going to tear my hair out, but that's where they are." According to her, the need for added patience continues on past the baby days, laughing that her children have yet to let her enjoy reading the paper!
"My kids still don't like me to read the newspaper in the morning. I'll be making their breakfast, and I'll have The New York Times there and want to read it, and they'll be like, 'Mommy, Mommy, Mommy!'"
However, the actress isn't complaining in the least when it comes to raising a family. Tying the knot with Bart when the children were young, Julianne shares that her ring is a testament to the foursome's ever-lasting bond. "Bart gave me an engagement ring that has both of our children's names in it. He said because they came first, they should be in the ring," explains Julianne. The dedication to Cal and Liv have the pair a part of every major milestone — which for Julianne, includes the first day of kindergarten!
"I have these pictures of [Liv] at kindergarten, I'm sitting on a chair and she's sitting on my lap and I'm talking in her ear and she looks so worried. Kindergarten is the hardest for me — that's the year I cry. I walk out of that classroom and I burst into tears. They're entering the school world."
Source: Redbook