It's Miller and Johnnie Rose Etheridge!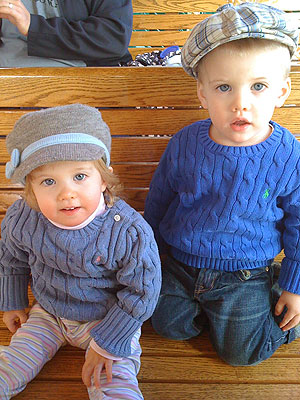 Courtesy Melissa and Tammy Etheridge for use on CBB
After a scary encounter with the paparazzi over the weekend, rocker Melissa Etheridge and actress wife Tammy have chosen to share their own snapshot of their 2-year-old twins, daughter Johnnie Rose and son Miller Steven, and have been kind enough to allow CBB to post it here for our readers. How adorable are these two, in their Polo sweaters and cute caps?
"I am my own 'razzi," Tammy explains. "I don't like the chase … so I am hoping that posting a [photo] will deter them from spooking the hell out of us in the future."