Jill Scott Says Baby-On-The-Way Is a Boy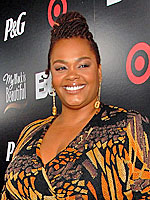 Frank Micelotta/Getty
Having given up all hope that she'd ever be a mother, songstress Jill Scott is savoring every moment of her first pregnancy. The 36-year-old actress and songstress — who expects a son April 25th, despite being told by doctors it was impossible for her to conceive a baby — feels that miracles do indeed happen. "It's so hard to believe, it's hard to have faith, especially when things aren't working out," she admits. "It's difficult and a challenge when you continuously ask for what you want and need in your life or at least what you think you want and need in your life, but that's when you have to believe and have faith the most." She adds,
"We didn't plan for this, but God obviously had other plans."
Cravings aren't an issue for Jill, who instead suffers from an aversion to food in general! "I don't want anything," she explains. "I'm having a hard time building an appetite…I have to force myself to eat." Ever cognizant of the life growing inside her, Jill says that taking care of herself has taken on new-found importance. "For so long I've been able to be carefree — frolicking in my life. I didn't have to be responsible for anyone else but myself, my mother and my grandmother," she says. "I've been free to do what I want, when I want."
"Now I have to watch what I eat, how I eat, make sure I get enough rest. Before I was just running and now, I'm so much more responsible and thoughtful and that's a good thing."
Click below to read about Jill's plans for the future.
Asked whether she thinks she'll be a good mom, Jill replies "I hope so…it might sound odd but I'm parenting now even though my son hasn't arrived yet." Staying aware of her "energy" and her "attitude" are key, she says.
"I don't want to be the funky, pregnant lady just because I can. I really have to make an effort to be conscious of everything about me because it's no longer about me, but my child. I don't feel like talking or anything now. I just want to be silent and experience all of this."
As Jill and her fiancé Lil Jon Roberts adjust to the notion of impending parenthood, they're looking forward to "starting a family"  — though marriage is not necessarily part of the equation. Noting that "there's just so much happening," Jill says that things are good as-is. "It's funny because I remember one day I was feeling a little down and I said to my girlfriend, 'I guess I've missed my opportunity to be a mom,' and she responded, 'No, you just haven't met the right man yet,'" she recalls. "I've always believed that everything on this earth has a rightful key that fits and he was mine."
Fans of Jill's Grammy Award-winning music will be pleased to learn that pregnancy has provided a creative spark. "I've been writing," she shares. "A lot of things are on my mind…As a woman, I hear better, I smell better, my taste buds are different and I feel so much more like a sexual being than I ever have." She adds,
"I've learned a lot about men and mothers. I've never appreciated mothers this much, or even my mother, until now as I sit in a room with my grandmother, my mother and now my son. It's truly amazing what's happened to me and there's a lot to say and I can't wait to say it."
Jill can next be seen in HBO's No. 1 Ladies Detective Agency, airing in March.
Source: Essence.com