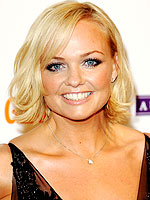 PA Photos /Landov
After welcoming her first child, son Beau Lee, 17 months ago, life as Emma Bunton once knew it was changed forever, but the proud mama isn't complaining in the least! Admitting that "being a parent, ahhh, it changes everything in your life," the 33-year-old is in a state of bliss when it comes to her family of three, including longtime partner Jade Jones. "My whole focus is on my little boy. He is the best thing I've ever done. He's just wonderful, and whatever I can do, I want him to be as healthy as possible," says Emma. Her utter joy of being a mother, in fact, has her — eventually — thinking of more children!
"I'm just really enjoying this time with Beau at the moment, but yeah, I'd love to have another one. Absolutely."
While there may be no more babies in Emma's immediate future, the songstress can't contain her excitement for the fast-approaching birth of her former band mate, Melanie Chisholm's first child in February. Referring to the mama-to-be as "so that natural mother," Emma — who "can't wait to meet her little 'un" —  is looking forward to seeing her "really down to earth" friend take on the role of motherhood. The last member of the Spice Girls to start a family, Melanie was inspired by the pitter-patter of children's feet on tour, according to Emma!
"I saw her over Christmas and she's just wonderful and being on tour with all us girls having all our children with us obviously gave her a bit of a push in the right direction! But she's going to be so amazing."
The new baby will be Melanie's first with partner Thomas Starr.
Source: Metro