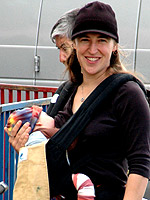 Adrian Varnedoe/Pacific Coast News
In the 1990′s former child star Mayim Bialik walked away from her celebrity and instead into the classrooms of UCLA. Since receiving her Ph.D in neuroscience last year, the 33-year-old mother of two has been writing for several organizations that raise funds for mental retardation research – but she's contemplating a return to acting, after all. Mayim tells Entertainment Tonight,
"I am actually auditioning and sticking a toe back into the industry. I am very happy I got my degree and I worked very hard on my theses, but in terms of having kids and the family life we have, academia right now is not where I can go."
Mayim — whose show Blossom was broadcast from 1991-1995 — and husband Michael Stone are parents to sons Miles, 3, and Frederick Heschel, 5-months.
– Missy
Source: Entertainment Tonight