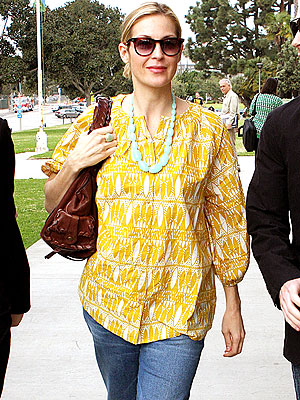 Flynet
Arriving at a custody hearing on Wednesday in Santa Monica, Kelly Rutherford stayed calm and collected in a yellow tunic top while making her way into the courtroom.
Due in June with a daughter, the Gossip Girl star is attempting to win permission to take 2-year-old son Hermès Gustaf Daniel with her to NYC until the end of March to film new episodes of the show. Estranged husband Daniel Giersch opposes the move.
The couple appeared again today to plead their cases, but after almost two hours of testimony from both, no ruling was made and the hearing will resume Friday morning.
Outside, Kelly told reporters,
"Ultimately I want the best for Daniel, and I want the best for our family. I think about the great love I have for this child. I try to not think [about the divorce] and instead think about my kids and my future … and how lucky I am to be a mother at 40."