Chyler Leigh Expecting a Daughter, Prepares to Conceal Belly on Camera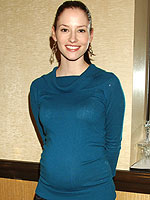 Vince Flores/Celebrity Photo
As the majority of women who have experienced pregnancy have learned, maintaining a fit and healthy lifestyle during the long nine months can, often times, be far from easy; having to mask the inevitable weight gain — and hide a burgeoning belly — from millions of viewers is downright daunting. Having recently confirmed her third pregnancy, Grey's Anatomy actress Chyler Leigh — who will welcome a baby girl this spring — shares in an interview with The Cradle that the decision to not write the pregnancy into the show has forced her to "put a focus on eating very well and exercising." With a plan to continue regular shooting "up until about a week or two before I deliver," Chyler will rely on "medical equipment [and] charts" to conceal her bump, but is determined to stay true to her weight gain goal in order to make the ordeal a bit easier.
"The first time I was pregnant, I gained about 55 pounds and it was difficult to lose. The second time, it was about 40 pounds. Having a three year old already, shedding the weight was easier that second time around. And so this time, I am hoping to gain around 30 pounds."
Already a mom to 5-year-old Noah Wilde and 2-year-old Taelyn Leigh, Chyler credits her husband Nathan West with helping keep her life in order. Spending long hours on the set — where she is often met by "someone urging me to sit" and relax — the 26-year-old actress shares that Nathan has become an outstanding domestic daddy! "He's also learning to cook and preparing dinners and helping pack lunches for me when I have long days at work." That isn't to say, however, that the couple don't consider their alone time equally as important as time spent with their family. With a conscious effort made by both Chyler and Nathan to have "date nights," the two "adamantly agree that when you have a healthy marriage, you have healthy children."
Click continue reading to find out about Chyler's deal with Nathan on naming their children!
Thrilled to be welcoming her third child, Chyler gushes that the benefits of motherhood are endless. Looking to her children for "that motivation to keep changing into a better version of myself so that, ultimately, I am giving them the best example to do the same for themselves," the proud mama admits that having a family has completed her. As they prepare to welcome the new baby girl — Noah is "thrilled to be having another sibling" — Chyler reveals that preparations, including nursery shopping and a name, have yet to be finalized!
However, with an agreement that began with the birth of their first child, Chyler and Nathan "have had an ongoing bet that whoever correctly guesses the gender, gets to pick the first name of the baby. The runner up gets the middle name." Having chosen Noah for her son, Chyler's husband — an Oscar Wilde fan — picked 'Wilde' for his middle moniker, making the full name Noah Wilde West. "We got a lot of chuckles with that one," laughs Chyler. With their daughter, Nathan guessed correctly, and "wanted an original, hyphenated name," the actress explains. "He came up with Tae-Lynn. I liked it, but wanted to trim it a bit, and we agreed to make it one name and spell it Taelyn." Apparently a good guesser, Nathan will be naming the new baby girl as well!
"As for number three, another girl, we're still throwing around a few ideas. But…he gets to pick her first name."
Source: The Cradle