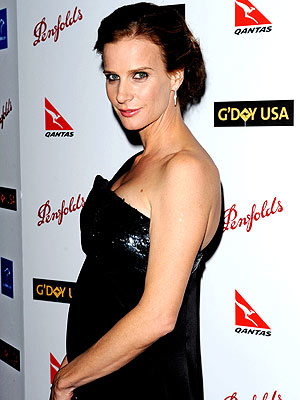 Bauer Griffin
Fans of the delivery surprise won't be disappointed with Rachel Griffiths. The 40-year-old Brothers and Sisters actress – due in July with her third child – says that unlike with son Banjo Patrick, 5 and daughter Adelaide Rose, 3 ½, she won't learn the sex of this baby-on-the-way until he or she makes their entrance to the world. She tells Access Hollywood,
"I found out with the first two. So, I've got one of each. I have got a boy. I have got a girl and we are up for the potluck."
Rachel went on to reveal that she and husband Andrew Taylor have already begun playing the name game; With a name like 'Banjo' already under their belts, Rachel jokes that "there is a lot of pressure" on the couple to continually out-do themselves.
"It's tough now. I'm less oriented to finding an Australian eccentric name I should say. I actually do love the name America."
At left, Rachel is pictured at the G'Day USA Australia Week 2009 Black Tie Gala, held on Sunday in Hollywood.
Source: Access Hollywood